CREATE IMPRESSIVE JIRA MIND MAPS TO ARTICULATE YOUR IDEAS LIKE A PRO
Create a Jira mindmap in seconds with our professional mind mapping solution directly integrated with Jira!
A mind map is a great way to visualize and communicate your ideas. A key benefit of mind maps is that they allow you to break down large and complex concepts in to smaller, more manageable pieces.
Add colors and symbols (Emojis) to enhance your messaging. Export or print for presentation and sharing, or continue working in Jira to take off with your plan! Free for up to 10 users.
Create your own Jira mindmap, or collaborate with your team to brainstorm the full plan in a Jira project with shared user access.
Add symbols and Emojis to further enhance your messaging
Add Emoji symbols to add additional context and style your ideas to catch the attention of your audience quicker and to maintain their focus. Mindmaps for Jira uses native symbol sets that are fully compatible with your Jira cloud instance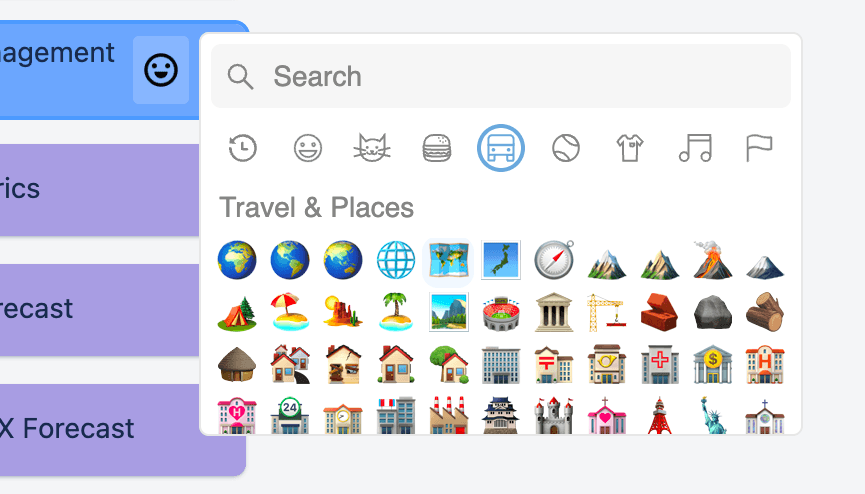 Add color styles to logically group or highlight key sections
Use colors to make it easier for your audience to quickly overview how certain tasks belong together, or emphasize specific tasks to stand out from the others
Print-friendly mode to easily print or share your plans with your team and stakeholders
Use the print view dialog to print or export your mind map to PDF or other formats supported by your native system print service. Mindmaps for Jira will generate a fully expanded mind map tree with print-friendly white background perfect for sharing
Product details
Mindmaps for Jira is an add-on application that extends the capabilities of your Atlassian Jira. It can be installed directly through the Atlassian Marketplace listing.
Jira features
Create new ideas - with the ability to create multiple new ideas easily in sequence
Edit existing ideas
Enhance ideas with colors and symbols/emojis
Read and list ideas according to link hierarchy (support for unlimited levels)
Remove ideas (recursively according to link hierarchy)
Tree hierarchy features
Fast 2D tree engine enabling your Jira link hierarchy to be rendered in a horizontal mind map layout
Automatic loading of child tasks when you expand nodes
Scrolling - using mouse, keyboard, touchpad and/or touch depending on your system capabilities
Zooming - native browser support
Security
Mindmaps for Jira has been developed following industry best-practices on cloud security. As Mindmaps for Jira is built with the Atlassian Forge platform, it also means that it is hosted directly by Atlassian and operates within the security context of your existing Jira cloud instance and related Atlassian services.
Data privacy
Under no instances or circumstances, is any data stored by Mindmaps for Jira (be it corporate, project or personal data) outside of the Jira cloud instance or your browser. Mindmaps for Jira works by directly operating from within your Atlassian authenticated browser session communicating directly with Jira.
Performance
Mindmaps for Jira comes with high performing and robust tree rendering compatible with all common and modern browsers on the market today. Under the hood you find Emergence Software's proprietary tree engine technology - it has been built especially with fast rendering speed, large tree sizes, and an intuitive and seamless user experience in mind.
Notes
Color support - Company-managed projects has native support for issue colors. Team-managed projects do not support this feature.
Quick guide
The Quick Guide contain a more comprehensive description of the features and functionality of Mindmaps for Jira.